Sylvia Robinson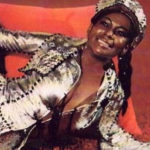 Aliases: born Sylvia Vanderpool, p/k/a "Little Sylvia," "Sylvia"
Birthdate: March 6, 1936 (1938)
Birthplace: New York, NY
Sylvia Robinson produced the very first successful rap record, "Rapper's Delight," and with her husband Joe Robinson co-founded the first successful rap business, Sugar Hill Records.
• As a child singer, Sylvia Vanderpool first recorded under the name of "Little Sylvia" for Savoy Records in 1951.

• Herbert Vanderpool, Sylvia's father, arranged for her to take guitar lessons from renowned musician, Mickey Baker. It was Sylvia's then-boyfriend Joe Robinson who suggested that Mickey & Sylvia become a performing duo. Their hit, "Love Is Strange," is an American classic, and appeared on the Dirty Dancing soundtrack.

• Sylvia Robinson may well have become America's first female record producer with her work on tracks for Joe Jones and Ike & Tina Turner.

• Sylvia penned and/or produced many successful R&B records in the 1970s including Shirley & Company's "Shame, Shame, Shame," The Moments' "Love on a Two-Way Street." But her most successful record, the 1973 pop hit "Pillow Talk," she performed herself.

• Sylvia's visit to the Harlem World nightclub was her first exposure to hip-hop culture.
Best quote from The Big Payback:
"Can you imagine what this would be like if they were rapping for the Lord?"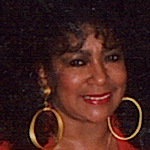 As Sugar Hill's troubles mounted in the late 1980s, Sylvia and Joe Robinson divorced.
Sylvia founded Bon Ami Records in 1987 and discovered a group called The New Style. After their unsuccessful debut in 1989, the group would later move to Tommy Boy Records and record as Naughty by Nature.
Joe Robinson died of cancer in 2000.
After her ex-husband's death, Sylvia Robinson lived in Englewood Cliffs, New Jersey, becoming more reclusive as the years went by, declining public appearances and interviews. Her affairs were handled by her son, Joey.
Sylvia Vanderpool Robinson died of congestive heart failure on September 29, 2011, at Meadowlands Hospital in Secaucus, N.J.
VITAL LINKS:
• Sylvia Robinson Wikipedia Page
• Earliest press account of Sylvia Robinson's death