The Village Voice
"Epic."
New York Times
"Exhaustive yet vigorous."
Los Angeles Times
"Dan Charnas' detailed and colorful account of hip-hop history and its fusion of art and commerce is a must-read for fans of the music industry…His time embedded in a tumultuous, momentous environment doesn't so much compromise his objectivity…as allow him to get the kind of juicy details no one else has reported—the boardroom brawls, the moguls who mentored."
The Atlantic
"One of the juiciest, flat-out most enjoyable books I've read in a long time… Charnas did an incredible reporting job and the book is a delicious read…It doesn't matter if you love hip-hop or not, this book is just an incredible epic about business and culture in America."
Publishers Weekly (starred review)
"[A] stylish, lavishly detailed love letter to the genre and industry…Charnas makes an elegant case for how hip-hop is the consummate art form… [Charnas] writes with the authority of an insider, the passion of a fan, and the cool eye of someone who has maneuvered through the day-to-day working of the business. Nuanced treatment of the impresarios behind signature sounds and recording empires, and brisk, dramatic vignettes, give this history of a leaderless revolution impressive momentum."
The Onion A.V. Club
"There has never been a better book about hip-hop…a record-biz portrait that jumps off the page… Monumental in every way…A constant revelation…Every page is loaded with fresh, acutely detailed, great stories delivered in bite-size, and Charnas' snappy pace makes getting through its 650-some pages a pleasure."
The Boston Phoenix
"The Big Payback isn't just the most comprehensive journalistic account of hip-hop ever written—it's a mature, Pulitzer-worthy work, an integral account of essential urban history on a par with Robert A. Caro's The Power Broker."
Forbes
"The Big Payback stands out as a must-read for any fan—or detractor—of the genre."
Austin Chronicle
"The riveting dialogue culled from more than 300 interviews makes it seem as if Charnas was in the room for every detail that ever went down in hip-hop, and sometimes he was."
Oliver Wang, Soul-Sides.com
"Hands-down, one of the best books ever written about hip-hop…Absolutely essential…this isn't just the most important book on hip-hop that's come out in years; it's one of the most important books on pop music, period."
KEXP.com
"Charnas has the shrewdness and experience as a journalist to pull it off extremely well…[He] is a highly skilled chronicler of the forty years that have paved the way to hip-hop's present…The staggering anecdotes knock your mind around, but the excellence of the storytelling will have you surrendering them out loud to your fellow fans."
Rolling Stone
"Dan Charnas' first-ever history of the rap industry is a classic of music business dirt-digging as well as a kind of pulp epic… Charnas' 'American success story' unfolds vividly and briskly, and no hustle goes unturned."
By Jon Dolan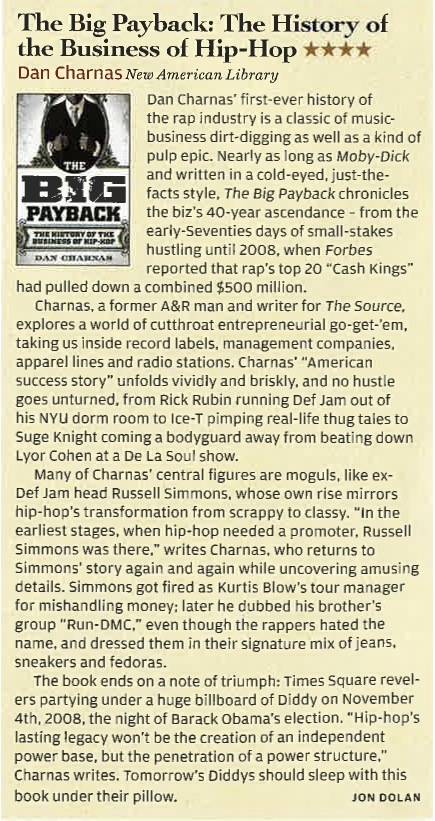 New York Daily News
"As gripping and dense as a prime Jay-Z rhyme… a page-turningly good job of detailing the clashes of sensibilities between key figures… Charnas has done a real service to pop history by following the money — a pursuit which ultimately tells a far larger tale: In hip hop, it seems, cash isn't just a matter of bling. It's the currency that gave this once outsider art — and by extension, a marginalized race — a louder, clearer and more important voice all over the world."
By Jim Farber
Details Magazine
"Decoded, by hip-hop's unofficial CEO, may get more attention, but Dan Charnas' chronicle of the genre's rise to multi-billion-dollar industry is just as essential. Wisely, The Big Payback focuses not on the beefs you know but on the back-room battles you don't."
Spin Magazine
"Pulitzer-level reporting — Charnas interviewed more than 300 subjects — brings to life the story of the dollars behind the ballers in this absorbing account of hip-hop's transformation from South Bronx cottage industry to multibillion-dollar global business."
Milwaukee Journal Sentinel
"Without downplaying the gamier or bloodier moments in the ascendancy of hip-hop, Charnas can reasonably claim that '[m]aterialism, vulgarity, and violence are not hip-hop's ills. They are America's ills.'"
By Jon M. Gilbertson, Special to the Journal Sentinel
Paper Mag
"We actually enjoyed this (only) 672-page epic history of the business of hip-hop and can vouch for the accuracy of what we could remember from the '80s."
By Gary Pini

New York Daily News | Gatecrasher

"In July 2000, ascendant hip-hop moguls Sean Combs and Jay-Z were both dealing with legal woes… But the two still found time to hit the baseball diamond in East Hampton, writes Dan Charnas in his new book 'The Big Payback: The History of the Business of Hip Hop' (out Dec. 7 from New American Library)."
By Frank DiGiacomo and Molly Fischer
The New York Observer
"The company that gave Jay-Z his true liquidity was Rocawear, not Roc-A-Fella. It was a company that was Mr. Dash's baby. But even a really fantastic country can only have one king. Dan Charnas, the author of The Big Payback: The History of the Business of Hip Hop, broke it down for me. "
By Rachel Kaadzi Ghansah
The Atlanta Post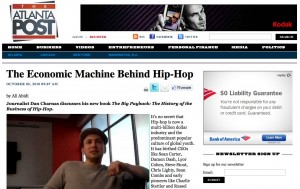 Early praise for The Big Payback:
"Call The Big Payback a hip-hop version of David Halberstam's The Reckoning. In the late seventies, hip-hop streamed in from the outside lane and proceeded to remake the American music business and America itself. Dan Charnas captures an epic story full of joy and pain, triumph and failure, grace and greed with the passion of a microphone fiend."
—Jeff Chang, author of Can't Stop Won't Stop: A History of the Hip-Hop Generation and Total Chaos: The Art and Aesthetics of Hip-Hop
"Dan Charnas has written the otherwise untold story of the business of hip-hop. His cast of characters—producers, agents, label executives, talent scouts—is every bit as compelling and dramatic as the musicians themselves. In the tradition of such great music journalists as Fred Goodman and Frederic Dannen, Charnas takes us way behind the scenes. It's an unforgettable odyssey."
—Samuel G. Freedman, New York Times columnist and author of Upon This Rock, Who She Was, and Jew vs. Jew
"The Big Payback is a stunning achievement. Not only does it manage to pack in countless unprecedented anecdotes about hip-hop that you can't find anywhere else, the read is effortlessly smooth. First there was David Toop's Rap Attack, Ego-Trip's Book of Rap Lists, then Jeff Chang's Can't Stop, Won't Stop, and now this book, the one ring that rules them all."
—Cheo H. Coker, co-screenwriter of Notorious and author of Unbelievable: The Life, Death, and Afterlife of the Notorious B.I.G.
"How did hip hop's shoot-from-the-lip outlaws and go-for-broke gamblers become the entertainment industry's new landed gentry? Dan Charnas brings a fan's devotion, an industry insider's savvy, and a reporter's unblinking eye to chronicling a cultural revolution that is as contradictory and complex as the country that produced it. Payback is a bitch."
—Fred Goodman, author of Fortune's Fool and The Mansion on the Hill