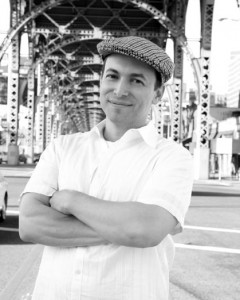 Dan Charnas — journalist, editor, screenwriter, record producer, teacher — was one of the first writers for The Source and part of a generation of young writers who helped create hip-hop journalism.
He is the author of The Big Payback: The History of the Business of Hip-Hop (New American Library/Penguin) and the coauthor of Def Jam: The First 25 Years of the Last Great Record Label (Rizzoli) with Bill Adler and Cey Adams.
The Big Payback is the epic, 40-year narrative of the executives, entrepreneurs, hustlers and handlers who turned rap music into the world's predominant pop culture. Culled from over 300 interviews with top industry figures and artists, and nearly a decade of research, The Big Payback was published in hardcover in 2010, and paperback in 2011.
The Big Payback has been called "the most comprehensive journalistic account of hip-hop ever written" (The Boston Phoenix). Labeled "Pulitzer-worthy" by Spin and "epic" by The Village Voice, the 660-page book received four stars from Rolling Stone, a starred review from Publishers Weekly, and accolades from publications like the New York Times, Los Angeles Times, Entertainment Weekly and The Atlantic. (Click HERE to read the collected reviews.)
Charnas began his career penning cover stories, features, reviews and columns for a variety of publications on artists like L.L. Cool J, Ice Cube, A Tribe Called Quest, N.W.A. and Public Enemy.
Dan began his music business career in the mailroom of the seminal rap label Profile Records, eventually becoming Rap A&R and Promotion Manager — working on projects from Run-D.M.C., Dana Dane, Special Ed, Rob Base, Special Ed and DJ Quik.
In 1991, he was recruited by Def Jam-founder Rick Rubin to run the rap department of his new Warner Bros. joint venture, American Recordings.  Charnas, as VP of A&R and Marketing, oversaw projects including Sir Mix-A-Lot's double-platinum single "Baby Got Back" (the #1 Billboard Pop Single of 1992), DJ Kool's gold anthem "Let Me Clear My Throat," and Chino XL's acclaimed "Here To Save You All," which influenced emcees from Eminem to 50 Cent.
In the mid-1990s, Charnas was the host of the "Basement Tapes" segment on the Baka Boyz' "Friday Night Flavas" on Power 106, the first hip-hop show on pop radio in Los Angeles. He was also a regular guest on The Wake Up Show, syndicated nationally.
In the late 90s, Charnas met actor/director Forest Whitaker and became VP of Music for Spirit Dance Entertainment, where he managed Whitaker's label deal with Sony/Epic.  It was at Spirit Dance that Charnas resumed his writing career, this time for film and TV.
Charnas has written comedy for MTV's "The Lyricist Lounge Show" and BET's "Comic View."  He was a Music Supervisor for Showtime's "Interscope Presents The Next Episode." He was also the Head Writer for FitTV/Discovery Channel's "Guru 2 Go."
In the magazine world, Charnas was Editorial Director for Aquarian Times, an international yoga magazine; and a columnist for Profile Magazine (the online magazine about dating & relationships).
Charnas has written about culture, race, and politics for a number of publications, including the Washington Post and the New York Press. His writing has also appeared in Complex.com, HuffingtonPost.com, Scratch Magazine, the Chicago Tribune, the Austin American Statesman and dozens of other newspapers. He also served as Editorial Director at InteractiveOne.
Charnas is currently Big Payback Officer at ooVoo, a video chat app with 70+ million users and a huge base among multicultural millennials.
Charnas graduated Phi Beta Kappa, Summa Cum Laude with Distinction from Boston University. His thesis, "Musical Apartheid In America," examined white America's 400-year-long relationship of ambivalence to Black culture; the legacy of racial segregation in the music industry; and the potential of hip-hop in resolving that ambivalence, transforming the industry and the entire culture.
Charnas received his Master's degree from Columbia University's Graduate School of Journalism, where he won a Pulitzer Traveling Fellowship, the school's top honor. Charnas was also awarded the Lynton Fellowship for Book Writing, and the Sackett Graduate Award.
Charnas has been a teacher of Kundalini Yoga for nearly a decade, certified by the Kundalini Research Institute.  He teaches regular classes in New York, and contributes regularly to YogaJournal.com.
He was born and lives in New York City.