Def Jam: The First 25 Years Of The Last Great Record Label
October 13th, 2011 by Dan Charnas
Filed in: books, Def Jam, Def Jam Book, events, High-Low Art, hip-hop, hip-hop business, journalism, personal, RIck Rubin, Russell Simmons, The Big Payback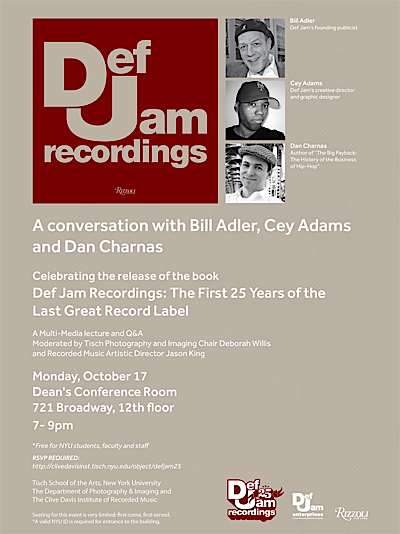 The new book that I co-authored with Bill Adler and Cey Adams — Def Jam: The First 25 Years Of The Last Great Record Label (Rizzoli) — is out this week. (Click HERE to buy the book.) So much more than a "coffee table" book, it's a comprehensive oral history of the label. The book is being feted around New York in the coming week.
Tomorrow night, Paul Holdengraber will host a conversation at the New York Public Library with Rick Rubin and Russell Simmons (the first time, I believe that those two have ever appeared together in public for such a discussion). The event, as of now, is sold out.
Then, on Monday, Bill, Cey and I will have a considerably more low-key discussion at NYU — fitting in that Def Jam actually started there.
Hope to see you at one of these events!