Blacks and Jews, Part Two
June 15th, 2005 by Dan Charnas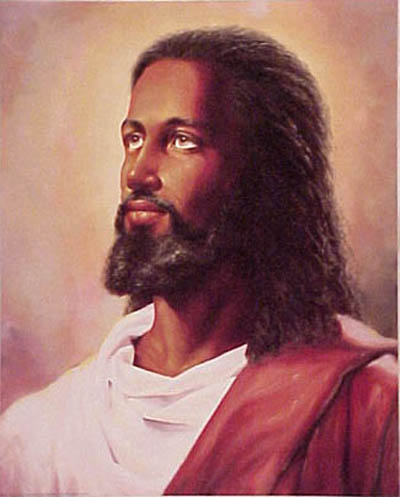 Black Christians: Praying to a Jewish Rabbi named Joshua for nearly 400 years.
Let me be perfectly clear:
For all our bellyaching, Black anti-Semitism hasn't cost Jews their lives or livelihoods.
White racism, on the other hand, has cost people of color theirs, over and over.
Jews — as whites in America — are participants in that racism, at least by default.
James Baldwin, in his landmark essay "Negroes are Anti-Semitic Because They're Anti-White," tells that his first experiences of one-on-one racism were at the hands of Jews, because it was the Jews who were the shopkeepers, teachers and landlords in the Harlem of the mid-20th century. So, to paraphrase Baldwin, you might say that Jews are racist because they're white, not because they're Jewish. And that racism, unlike Black anti-Semitism, has caused real, physical harm.
So if you're a person concerned with liberation, as many Jews claim to be, you must acknowledge that the most urgent problem is white supremacy… as it affects people of color, rather than people of the Book.
That being said: We're still going to talk about Black anti-Semitism.
We're going to talk about for my own personal reasons. Because just as Baldwin's first experiences of racism were at the hands of Jews, most of my experiences of anti-Semitism have been at the hands of Black people.
This is not to say I haven't engineered that situation. After all, I elected to spend my life hanging around Black folks. If I had settled in Boise, Idaho, I might be singing a different tune.
And this is not to say that Black anti-Semitism has injured me in some palpable way. Only my feelings were hurt.
And this is not to say that Black anti-Semitism is a real problem. It isn't. But that doesn't mean that Black anti-Semitism isn't real.
It is real, Israel.
So let's talk about that.
Jew On The Brain
From my own experience, it feels like Black Americans are more likely to be anti-Semitic than white Americans. That could just be a personal distortion. But the ADL published a survey in 1998 finding that while 9% of white Americans could be classified as holding anti-Semitic beliefs, the figure for Black Americans was 34%, nearly four times as much. Not that I trust the ADL much more than I trust Farrakhan. And not that I agree with the ADL's broad definition of what constitutes "anti-Semitism."
But a lot of Black people definitely have something going on when it comes to Jews.
A lot of it isn't "anti-Semitism" so much as it is a condition I affectionately call "Jew-on-the-brain."
Let me explain: Jews and Blacks in America have long shared a mutual obsession for the other. And not all of this obsession comes from the shared legacy of oppression and genocide. I think that it comes from something deeper and more spiritual.
For Jews, a lot of this fascination centers on music and culture. White America in general shares that attraction, but it is an appreciation from a distance. There's something about Jews, on the other hand, that has made us want to be more than simple observers. We've wanted to participate. No need to list the evidence for this one.
For Blacks, a lot of this fascination centers on unity and mobility. The ways that Jewish people excel in particular fields, or how they "stick together," is very much part of Black American lore. And it's made some Black Americans eager to form connections with Jews in business and other fields. No need to list the evidence for this, either.
Jews marvel Black genius and say: How do they DO it? Blacks look at Jewish genius and say, with the same awe: How do they DO it? On its face, it's very touching. That is the dynamic, after all, upon which most romantic relationships are based.
But we live in a white, Christian society. So Jewish fascination can easily take on the baggage of racism ("they DO it because they've got such natural RHYTHM"); and Black fascination can take on the baggage of anti-Semitism ("they DO it because they're CHEAP and SHREWD and SHADY").
That Black fascination plus stereotyping equals what I call "Jew-on-the-brain."
For the most part, I've found "Jew-on-the-brain" to be benign, even quaint. I know, for the most part, it comes from overexposure to ideas about Jews and underexposure to Jews themselves. If I had twenty hands, I still couldn't count the Black homes in which I've been a guest over the years. Yet most of my Black hosts could count their experiences around a Jewish dinner table on one hand alone, if that. For many of my Black friends, I'm the only Jew they really know.
So I don't take much offense at the offhand comment or two. I just try to be myself and see what that does to their prejudices.
For Example, Who's Your A&R?
It was much harder to do that, though, in the music business. There, I'm already in the role of "exploiter." And my bosses (Cory Robbins and Rick Rubin) were both Jewish, and both somewhat… uh… frugal? So in working for them, in doing their bidding, I was pretty much fucked.
I gave artists shitty deals because I was spending my bosses' shitty money.
Not that we weren't exemplary in other ways. If, by chance, you had Rick Rubin on your team, then you had someone who fought harder for real, raw Black culture than any person in the music business — white OR Black — and even appreciated it more than his partner Russell; even if it meant losing money, long-standing distribution deals or even walking away from a company entirely. And if, by chance, you had me at your side, then you had someone who really knew the significance of your art within the broader context of American culture, and would fight for its dignity and success even at the expense of his own personal gain. So not so cheap, after all.
I think, for example, that Chino knew this. Like many of my Black friends, Chino had a mild case of "Jew-on-the-brain." So, yes, sometimes he conflated Rick's and my being Jewish with the fact that his record deal sucked. Thus the lyric: "And if my company tries to play me for my loot/Then I get red and fed/I'm leaving them dead/I'm slapping the yarmakules off they head."
This was funny, actually, to all of us. It was Rick's favorite lyric, of course. No, the lyric that Rick tried to kill was this one: "So bring out bum ass Russell Simmons, cause comedy's over."
"He's my friend," Rick said.
"Rick," I replied, "you guys are still suing each other, for Chrissakes."
"Yeah, but I don't want to hurt his feelings."
The lyric stayed in. Along with the ones where Chino anticipates Tevin Campbell's sex change operation and salutes Me'shell N'degeocello's manhood. And of course, the one about Tupac. With Chino, everything was fair and everyone got skewered. I took no exception.
Still, there was one moment that gave me pause. The year was 1996. Chino was part of a big Wake Up Show concert at the theatre in Leimert Park on Crenshaw in L.A. He came out to do his freestyle and, as usual, had everybody hanging on his every word. So he's in the middle of another tirade against the industry and lets this one fly:
"I'm bringing more fiscal dilemmas to these Jews than free ham."
The crowd surged like a bomb had been detonated. I will never forget that deafening reaction; a moment where an audience immediately connects with an emcee's rhymed shorthand and all of the subtext therein: The record industry is run by greedy Jews.
It was a brilliant lyric. Funny, clever and mean… all the things that made Chino so compelling. But, like most "Jew-on-the-brain" babble, based more on folklore than fact. And I think on some level Chino knew better; but he was never one to let facts get in the way of a good punchline.
But some people really do believe it. This same assertion was made in a more humorless fashion by former Compton Mayor Omar Bradley. In a public forum circa 1993, while rebuking Eazy-E for sullying the city's fine name with his gangsta lyrics and imagery, Bradley said (if memory serves):
"I won't name the specific racial group that's using you, brother, but they are destroying us and having a bagel and a bar mitzvah at the same time."
Bradley, like so many Black folks, went out of his way to blame faceless Jews they do not even know. Not Jerry Heller, mind you. But all Jews. That means me.
On cue, I was asked to appear opposite Bradley on "Which Way L.A?" a radio program on NPR affiliate KCRW. This was my opening salvo:
"There are six major record companies in the world [well, there were in 1993 when I said this]. Sony and MCA are owned by the Japanese. BMG by the Germans. EMI by the British. Polygram by the Dutch. That leaves TimeWarner, the sole American company, which is actually headed by Gerry Levin, who is Jewish; but it's a publicly held corporation. Even if we count TimeWarner, one company hardly denotes Jewish domination of the industry."
Bradley didn't show, of course. A coward who doesn't do justice to his namesake. And, as it turns out, a hypocrite. Bradley, so concerned about the Jews exploiting his people, was sent to jail in 2004 for "misappropriating public funds." But hey, the Jews probably set him up, right?
Here's an education for my "Jew-on-the-brain" friends: Just because you see a whole bunch of Cohens and Rubins and Rifkinds up in the mix, doesn't mean "The Jews" control the entertainment business. There is no "The Jews." There's an old maxim that says when you get 4 Jews in a room you get 5 opinions. Believe it. There can't be a Jewish conspiracy when Jews can't agree on anything… not even Israel. If you don't know this, then you don't know Jews.
And frankly, this goes for everybody. No one ethnic group is "all" anything. There is no "Black community." There are Black communities. Small change, big difference.
But don't take my word for it. Let James Baldwin get at you:
"All racist positions baffle and appall me. None of us is that different from one another, neither that much better nor that much worse. Furthermore, when one takes a position one must attempt to see where that position inexorably leads. One must ask oneself, if one decides that black or white or Jewish people are, by definition, to be despised, is one willing to murder a black or white or Jewish baby: for that is where the position leads. And if one blames the Jew for having become a white American, one may perfectly well, if one is black, be speaking out of nothing more than envy."
The Roots of Black Anti-Semitism
Where do contemporary Black ideas about Jews come from? The roots of Black anti-Semitism are fivefold, in chronological order:
Christian Retentions:
West Africans were brought to a Christian country where they took on the religion of their slave masters. And while African-Americans much identified with the enslaved Hebrews of the Old Testament, many also inherited malignant Christian attitudes toward Jews as "Christ killers" and apostates.
Neighborhood Friction:
Jews were the bottom-of-the-rung, last white ethnic group out of the urban ghettos of America. So, long after they moved out, they still owned the buildings that Black folks moved into. They owned the stores where they shopped. They were the civil service workers — the teachers, the social workers, the bureaucrats. For many Black people like James Baldwin, the whites with whom they interacted most frequently were Jews. Not all of those interactions were negative, but by and large, the relationship was exploitive, with Jews acting as middlemen for the greater power structure. A power structure which, mind you, has always benefited from pitting one ethnic group against the other. And James Baldwin knew this: "It is not the Jew who controls the American drama. It is the Christian."
Political Power Struggles:
The famed Black-Jewish partnership that launched and funded the Civil Rights struggle was never one between equals. The Jewish position, no matter how well-meant, was always somewhat patronizing. To be Black then, was to be feel encircled by Jews: exploited from below; condescended from above. And when Black leaders in the 60s began to exercise their inalienable right of self-rule, Jews withdrew, or were tossed from the movement. When Black leaders pointed out the Jewish role in white racism, many Jews reacted as if their own history of oppression and contributions to Black liberation prevented them from being bigots individually; and obstructive institutionally.
Third-Worldview:
The changes in the way Black folks saw America— in which they deduced that American Jews were white after all — were mirrored by changes in the way Black folks saw the world. Specifically, Black Nationalists saw themselves as part of a global struggle between Black and white. Included in that group of darker-skinned people were the Arabs. And because the Arabs, since World War Two, had been in conflict with Jews in Israel— many of whom were light-skinned Caucasians fleeing the Holocaust and a Europe that was indifferent-to-hostile in its aftermath — some Black Americans naturally embraced this not only as another Black-white conflict, but yet another instance of Jews in particular trying to colonize people of color. Combine this with a growing rejection of white Christianity in favor of a darker Islam, and you had all the ingredients you might need to hate you some Jews.
Mystical Projection:
Black anti-Semitism, in the 1970s and 80s, began to draw from more than just religious, economic and political resentments. After the assassinations of King and X; after the inner cities burned; and on into the crack-flooded Reagan years; many African-Americans — both in the streets and in academia — began to see conspiracy everywhere. Some of those conspiracies were political and real: Cointelpro, the CIA-crack connection.
But some of them were more mystical and unprovable: James Granger's "Adam, The Altaic Ring and The Children of the Sun." Frances Cress Wesling's "The Isis Papers." And of course, the Nation of Islam's "Secret Relationship Between Blacks and Jews." Mystic narratives — tales of a race of white devils grafted by the "evil Jakub" (a/k/a Jacob, a/k/a Israel?) — had long been at the core of the Nation's philosophy, and that of its offshoots like the Five Percenters. But it was during the 90s that we began to see an ironic alignment of Black liberationist and white supremacist mystical beliefs: A world filled with black helicopters and Trilateral Commissions; Masons and Federal Reserve Banks; AIPAC and Israel; United Nations and New World Orders. At the base of all this is a general feeling that there are a few powerful men who control, or want to control, the world. That they've always controlled it, or wanted to. That they're the ones who set nations into war at whim so they can exert more of that control. Who is to say?
And while I do not equate Farrakhan with David Duke in the least — as the ADL does — what Farrakhan and Duke share, along with many powerless people in the world, is that these Men they speak of are either Jews, or controlled by Jews. And with it, the general sense that the Jews (or a certain upper echelon of Jews) are somehow evil, or at least can't help themselves from indulging in it. Why not the Jews after all? We've been the default bogeyman for that accusation for thousands of years.
It's this mystical anti-Semitism that invaded hip-hop when Professor Griff blithely stated that "Jews were responsible for the majority of wickedness" in the world. In that mystical conflation, all his worlds came together: the Christian retentions, the neighborhood conflicts, the political power struggles, the third-worldview, the Islamic triumphalism and mystical suspicions. Everything he had seen and experienced, from the church to the mosque; from the corner store to the music biz, seemed to ring it true.
Against that, what could Rush publicist Bill Adler do? Sitting across from Griff, he explained that "The Protocols of the Elders of Zion" was a forgery; that Henry Ford's "The International Jew" was the product of a white supremacist par excellence. Griff's answer: "That's what the book says." Adler noted at a forum this year that he "realized that Griff, like all racists, takes his beliefs as a matter of faith." Adler, a Jew who fought hard for Public Enemy's philosophy of empowerment, quietly removed himself from the project.
And what of Griff's "retraction," years later? I paraphrase: "That is the stupidest thing I said. The Jews aren't responsible for the majority of the wickedness across the globe… Satan is responsible." And I'm sitting in my chair thinking: That is rather slippery of you, Agent Starling. Yeah, Satan. Working through the hands of Jews, no doubt.
Farrakhan's retractions and outreach carry much the same slipperiness, and I don't buy it in the least. And for the most part, I don't care.
The Future
But then again, I take a walk down 125th Street, under the old Blumsteins' sign, where Adam Clayton Powell once led a boycott against bigoted Jewish merchants, and I see for sale a tabletop full of taped lectures by Khalid Abdul Muhammed and Malik Zulu Shabazz. And then I start to care a bit.
I wonder: Who will the leaders of Black tomorrow be? And if I work — in whatever worlds I travel — for that empowerment, am I working for my own destruction?
I walk away and the thought fades, a romantic fantasy deaded by dreary reality. In America, as Julius Lester said, it is the Black man who is made to wear the Star of David.
So, no, Black anti-Semitism is not a real problem. But it is real, Israel. Those double-digit numbers the ADL cites are the product of many different streams, a confluence of causes. And I think that negativity is exacerbated, again and again, by a Jewish leadership completely alienated from Black reality.
As sexy a target as Farrakhan has become, bashing him in hopes of ending Black anti-Semitism is like trying to catch Osama in hopes of ending terrorism. Alas, the real way to combat "Jew-on-the-brain" is much less glamorous: Outreach. Generosity. Personal contact.
You're Invited
If I could show you the one thing that is — for me — what being Jewish is about, it would be my family's Passover Seder.
Mind you, we're not very observant Jews — we don't keep kosher, we don't observe the Sabbath, we don't go to temple. Okay, we're horrible Jews, actually. But Passover is the one holiday that we keep — as it were — religiously.
As in all Jewish homes, the seder is a ritual meal recounting the story of the exodus from Egypt. (You know that daVinci painting, "The Last Supper"? That was Rabbi Yeshua leading a seder with his merry men). Anyway, the ceremony's central theme, repeated throughout the evening, is our gratitude for having been freed, and the commitment to free enslaved peoples everywhere.
So if there's ONE THING that's been drubbed into me by my religion —over and over again, year after year — it is that.
It is, without a doubt the central commandment of my own personal Judaism. It applies equally to Jews, African-Americans or Palestinian Arabs. It's why I have a very hard time understanding Jews who don't get that, or don't much care. And it's why I'm so beside myself about both Jewish racism and Black anti-Semitism. It is one of the tragic ironies of my life.
It Was The Jews
I have a friend, an Afro-Brit expat who's been living in New York for almost two decades. We've known each other for almost that long. One day, we were walking near ground zero with her 11-year-old daughter. My friend, who's always been a bit of a conspiracy-theory buff, asked me whether I thought it was really terrorists who destroyed the twin towers.
I smile and roll my eyes at her: "No, honey. It was the Jews."
"Yes," she replies in her very proper west end accent, "I had heard that."
I squint: "Are you kidding me?"
"Well," she said, "I was told that Jews were given a warning to get out beforehand."
There's nothing left for me to do but stare at her. That's when I notice that her daughter's regarding her mother with the same look of incredulity.
The daughter's eyes and mine meet for a split second, together on our small island in the sea of ignorance.
—-