Blacks and Jews, Part One
May 30th, 2005 by Dan Charnas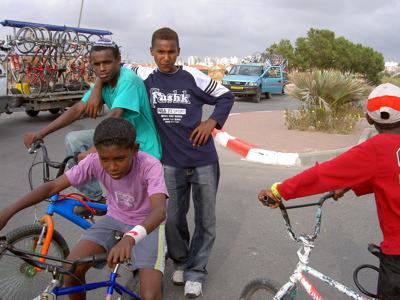 Jews on bikes, Ashkelon, Israel.
While in Israel, I got a call from a friend at the Village Voice about the brewing battle between Russell Simmons and the ADL. When I returned, I ended up in the paper.
Ironic for me that, in all my time as a journalist, I've never addressed the Black-Jewish rift. Even in my discussions with Chuck D; even through the Griff controversy; I never made it an issue. I guess I felt that my Jewishness came second to my identity as a member of the Hip-Hop Generation, and all the multicultural politics that entailed.
I resolved the question for myself when I was in college: The Great Battle to be fought in America wasn't against anti-Semitism, but against white supremacy. Sure, Farrakhan and Griff said some crazy shit about Jews. But I felt it was important to keep my eye on the ball. I still do.
But it seems fitting now that my first trip to Israel should precede my first public comments on the topic.
I've never had strong feelings about Farrakhan one way or the other. I'm ambivalent. And that ambivalence is appropriate, because Farrakhan himself is so all over the place on issues dear to my heart.
On the one hand, he's the only leader currently capable of motivating and mobilizing millions of Black folks. He's the only one who really speaks Truth to Power.
On the other hand, he speaks Bullshit to the Powerless, especially when it comes to his ideas about Jews.
On the one hand, he says "No real Muslim can hate a Jew." And on the other hand, he takes pains to single the Jews out: "Jewish people don't have no hands that are free of the blood of us. They owned slave ships, they bought and sold us. They raped and robbed us." He said this, by the way, three months ago.
Farrakhan wants to believe that the Jews masterminded the slave trade. He wants to believe that the Jews control world banking, that we control the Federal Reserve, that we're behind the Iraq war as part of some diabolical, monolithic agenda regarding Israel. Shit, every evil that's going down, according to Farrakhan, we've got something to do with it. He wants to believe it so bad that he tried to prove it by commissioning a book called "The Secret Relationship Between Blacks and Jews." Why does he want to believe it? I don't know. Perhaps by believing it, he gets some measure of comfort in grasping a very simple answer to a complex problem: The Jews did it, and are still doing it. Not a very original answer; it's one shared by white supremacists the world over.
And yet he says, "I wish you life."
So, no, I do not trust him. I certainly trust that Farrakhan has Black folks' best interests at heart. And as a human being, therefore he has many of my own best interests at heart. But as a Jew, however, he does not have my interests at heart. He doesn't know a thing about me, in fact.
As a member of the Hip-Hop generation, he gives support to many of the causes I espouse, among them Black empowerment and Black liberation.
As a Jew, he defames me.
But here's the thing. Even with that defamation, I don't require that my friends "renounce" Farrakhan. In fact, I understand perfectly why they respect him. Farrakhan's appeal is based on his love and dedication to Black people, not his ideas about Jews.
This is what Abraham Foxman of the Anti-Defamation League and other Jewish leaders don't understand. In my experience, most Black folks don't know much about Jewish people, and don't much care either, for that matter. They've got their own problems to deal with, and frankly those problems are a lot more serious than the ones we face as Jews in America.
This wasn't always true. There was a time, in the early 20th century, when American Jews were lynched right alongside Blacks in the south, when quotas kept us out of universities. It was during that era that Jewish leaders teamed with Black leaders to found the NAACP, the Urban League, and other Black cultural institutions. This partnership continued through the early Civil Rights era, and broke apart in the 60s when Black nationalists began to chafe under the paternalism of an increasingly assimilated and conservative Jewish leadership. Basically, Jews had become white.
Since then, I can't think of an instance in which Jewish organizations have aligned themselves with powerful Black leaders. Instead, the ADL finds some leaders to be demagogues and then alienates the others by demanding that they denounce the former.
This perennial strategy has been an utter failure.
First, it shows a complete lack of understanding: If there's one thing about which Black leaders are vigilant, it's in spying the age-old strategy of "divide and conquer." That's basic "Black History For Dummies," which apparently Foxman hasn't bothered to read. For Foxman and others to attempt to split those precious moments of Black unity, he might as well be standing on 125th Street screaming "nigger." That's how much that strategy turns Black people off.
Second, it shows a lack of respect: Frankly, who the hell are the Jewish leaders of today to demand anything of Black folks? In the last 30 years, has the Jewish community thrown its weight behind any issue of real meaning to Black people?
Third, it shows a lack of compassion: Black people are dying. Dying from crime-and-drug infested neighborhoods, dying from police brutality, dying from economic neglect, dying from lack of proper health care. In an America where most Jews are pretty well ensconced in the middle-class, we can't compare our occasional bouts with verbal anti-Semitism to the carnage of racism and classism. Yes, it's important that we dispel the ignorance that leads to anti-Semitism, but how can we then ignore a much more urgent, much greater pain?
Lastly, it shows a lack of savvy. In the Voice, I asked, "Does the ADL want to be right, or effective?" Sure, in decrying Farrakhan's anti-Semitism, the ADL is technically doing the right thing. But as a tool to combat anti-Semitism, it is completely counter-productive. It pushes all the wrong buttons. The ADL demands that Black leaders denounce each other: Instead, Black leaders close ranks, resent the Jewish leadership, and the public finds more evidence of Jewish high-handedness that feeds all the stereotypes we're trying to crush. Jews don't care about Black people; they care only about themselves.
I am sure that Foxman, a holocaust survivor himself, is a decent man. And, from my own experience, I do think that Black anti-Semitism is a big problem, one I'll address in my next post. But I think his lack of savvy regarding the Black communities of America is doing a great disservice to American Jews, particularly of my generation.
Nowhere is this more evident than in Foxman's ludicrous pursuit of Russell Simmons to renounce Farrakhan. Russell Simmons?!
First of all, if there's anyone who loves him some Jewish people, it's Russ. People like my former boss, Rick Rubin. People like everyone's current boss, Lyor Cohen. People like Bill Adler, who has famously said, "If anything, Russell's a philo-Semite." Russell loves Jewish people almost
as much as he loves lesbians, Asian women and models. And if that ain't love, I don't know what is.
But even Russell has his limits. Simmons, with good reason, lashed out at Foxman's latest public attempt to embarrass him. Now the ADL has lost a good friend. And because of the publicity that Foxman has generated, we've exposed a whole new generation of Black people to the lovely experience of holier-than-thou Jews getting all in their business and trying to tell them what to do.
The Israelis, I learned recently, have a saying for a politician who's so obsessed with an opponent that he'll destroy his own career and self-interests in pursuit of that person. It's from the Torah, Judges 16:30. Samson says it as he pushes apart the pillars of the house to destroy both his enemies and himself: "Let my soul die with the Philistines." Sort of like our own phrase, "Cutting off his nose to spite his face."
In my opinion, that's exactly what Foxman is doing. He's a latter day Samson, callously making new enemies of friends and making the work of creating a polycultural America that much harder.