Minding My Business – Part One
April 1st, 2005 by Dan Charnas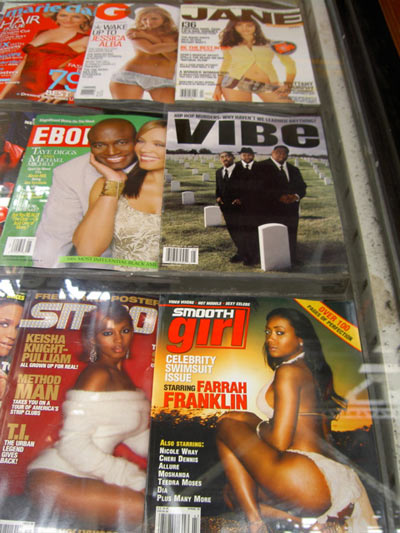 Talking may put your business in the street, but blogging puts your business everywhere.
For some, that's a frightening proposition. Yet — since returning to New York — my personal life has already become the subject of a monthly column in cyberspace. So launching this site on the anniversary of my return to the East Coast is not too much of a leap, really.
In any case, journaling about my personal life isn't nearly as daunting as writing about hip-hop and racial politics again. After all, I've been minding my own business for over a decade now, making records, writing TV and teaching yoga; letting others do the talking and writing. Why stick my neck out?
My introduction to the blogsphere came only recently, through daily visits to Jay Smooth's hiphopmusic.com, which features some of the most intelligent discussions of current issues in music and beyond.
That site has been a hub for conversation about two recent controversies, both centered around Hot 97 FM: The Tsunami Song and the recent beef-n-bullets between The Game and 50 Cent. Those conversations led me to a protest rally in Union Square where I saw Afrika Bambaata tending silent witness as dozens of kids vented at the hijacking of hip-hop by corporate interests; and to a panel on "Images of Women in Hip-Hop," where hundreds of young girls showed up to weigh in on the increasing objectification of women in videos, magazines and more.
One the one hand, these protests stir the imagination. It's heartening to see that, after a decade of bling, so many people care. And whenever people mobilize, there's a real chance that culture can shift. On the other hand, I think a lot of people have some flawed notions about what's really going on. And if you want to change the game, you'd better know how it's played. Otherwise it's just rhetoric.
Mainly, I'm hearing this frustration: The feeling that these media outlets — whether it be Emmis or Viacom, Universal or TimeWarner — have become, at best, a runaway train with hip-hop culture on board; at worst, a diabolical force for exploitation and subjugation.
At its apex, the lament becomes caricature: Hip-hop is romanticized as this wholesome purity; despoiled by the evil corporations for profit, and for the deliberate promotion of images of violence, ignorance and immorality; satisfying the appetites of white America for prejudice-confirming stereotypes; all conspiring to keep people of color down.
White supremacy has been the rule for 400 years and it's still the stage upon which our national drama is played. But I no longer have patience for romantic exaggeration: Portraying white executives like Rick Cummings as evil, while excusing Funkmaster Flex and Miss Jones as manipulated pawns; or "white boy video directors" (as one woman at the Images panel said) as somehow more culpable than the artists who inspire those videos. These stories are convenient, easy fictions that will completely derail any effort to change things precisely because people who are invested in fiction take their own power away from the real situation.
And what's more, even though I know it's business, I do take it personal. I've been working in Black music and with hip-hop artists for close to two decades. Not only have I never been able to get a hip-hop artist to do something they don't want to do, but as far as I'm concerned, most of the ideas and images that many decry come directly from the artist's own insistence. Personally, I'm starving for hip-hop with progressive politics. But when my artists and their audience think that's corny, there's not much I can do. Working against the cultural grain, for me, has produced some art that's been critically regarded and commercially ignored. Puffy's vision of hip-hop, so different from my own, captured young America's imagination instead. And because they tap into the zeitgeist, folks like Puffy will always find corporate partners because they make money for their partners.
I'm offering two personal stories that I hope will shed some light on how the game is really played, and how hip-hop itself has changed the game.
Story #1: Rick Cummings, Emmis and Hip-Hop Radio
Some people have maintained that the Hot 97 controversies are about ratings. They are absolutely right. Corporations and executives don't care about the content, just as long as the content has proven to get ratings.
That's why Emmis wasn't even thinking about getting involved in hip-hop in the early 90s. Hip-hop was completely unproven. We (meaning folks in the hip-hop record business and media) used to have strategy sessions about how we could convince station owners and programmers that hip-hop could be profitable for them. In other words, we were directly appealing to that corporate interest.
I remember one meeting in particular, Bill Stephney called a few of us up to his offices at Soul Records. It was me, Jon Schecter from The Source, and a few others. I invited one of Chuck Chillout's DJs along, a nice guy who wasn't even on the air at the time because WBLS had suspended Chuck yet again for something or another. And we spent hours debating about how we could talk to Joel Salkowitz at Hot 97 (the big Freestyle, bridge-and-tunnel pop station) about a new format that would unite hip-hop and alternative rock for the urban and suburban masses. I left New York long before there was any movement in that direction; but I can tell you this: When Hot 97 finally did succumb to the inevitable, they hired that nice guy who was at our meeting as their first mix-show DJ. That DJ was Funkmaster Flex.
But Emmis wasn't feeling hip-hop for a while. How did it start? It started with Rick Cummings taking a chance at Power 106 in LA, where he was, at the time, the Program Director. There simply was no real hip-hop formatted FM station until Rick Cummings stepped up. (The first guy to aggressively program hip-hop on AM was Greg Mack at KDAY. On FM, it was Keith Naftaly at KMEL in San Francisco) What did Rick do? Did he develop a playlist of poppy confections like Gerardo, Hammer and Vanilla Ice? No. He hired some knowledgeable kids, two hip-hop heads from Bakersfield, and let them do their thing. Power 106 became a hip-hop station just as "The Chronic" was released. Power 106 made "The Chronic"; and "The Chronic" made Power 106.
How do I know this? Because I was there, on the air, with The Baka Boyz, every Friday night. And I would occasionally talk to Rick, a diminutive guy (even shorter than me) who I actually really admired for doing something that the rest of the radio world regarded as nuts. Following Rick Cummings' example, Hot 97 followed suit, where, in similar fashion, the fortunes of that station and Sean Combs's Bad Boy rose together.
At the time, Black programmers at Urban stations wouldn't play groups like Public Enemy in daytime rotation because they were "too Black." Now, just as Bill had predicted, these programmers were scrambling over themselves to keep the white boys from serving their own core audiences better than they were.
Inevitably, the abrasiveness of uncut hip-hop — now transmitted on the open-air — began to alarm some people in Black and Latino communities. What did Cummings and his staff do? He had Power host an on-air town hall meeting. The result? The Power 106 community decided that the words "bitch," "nigga" and "ho" were no longer acceptable for broadcast. That may be obvious on its face, but I give Cummings credit for not censoring hip-hop at first. Emmis had entered the game without reservations, gave programming power and airtime to people who kn
ew what they were doing, and created a completely new format as they went along.
It's my belief that Emmis has maintained this hands-off approach, allowing its people to do what they want to do (and take what they want to take) as long as the ratings stay up. That approach has its benefits, as well as its dangers. And I believe that explains, in part, what we're hearing now…
Story #2: Sir Mix-A-Lot, Big Butts, and Video
In July 1991, as I prepared for my impending move to California, the Village Voice published a brilliant essay by Lisa Jones called "Venus Envy." Above it was a picture of this young Black British model (help me here, Beverly Peele? Beverly Poole?). Anyway, if memory serves me, Jones went on to talk about how, after years of under-representation, the Black beauty aesthetic was finally gaining ground in the mass media. That meant women with real bodies and real curves, and women of color on the cover of magazines.
Almost on cue, a few days later, Rick Rubin sent me the advance tape of Sir Mix-A-Lot's new album. Being a snobby New Yorker, I wasn't yet a Mix fan. But there was one song that made my hair stand up: "To the bean-pole dames in the magazines," he rapped, "You ain't it Miss Thing/ Give me a sista, I can't resist her/Red beans and rice didn't miss her." To my astonishment, here were some good cultural politics disguised as a pop song. Rick called me and asked me what I thought the single should be. "There's no question," I answered. "It's 'Baby Got Back.'"
"I know," he said. "I think so too. But Mix thinks it should be 'One Time's Got No Case," another political record, this one about DWB. So we compromised. Mix got "One Time" as his first single, and we would follow it up with "Baby Got Back."
In the meantime, I knew that despite Mix's intentions, this single would be misunderstood by a lot of people. Some bourgeois Black folks would hate it because it represented something, like hip-hop in general, that they wanted to run away from. Black conservatives would hate it for its open sexuality. White conservatives would hate it for the same reason, adding to it their own racist fears. And some white liberals would hate it for its objectification of the female, ignoring the song's progressive political implications, which were so clear from the mock-Valley-Girl opening of the song.
So I made copies of Jones' article and sent it to everyone at the company. I had conversations with Heidi Robinson, Rick's publicist, trying to show how we could frame this single within the context of cultural Afrocentrism. As for Rick, he didn't much care about that. As far as he was concerned, he had a perfect record: It would piss everybody off.
A few months later I was in California, on the Chaplin Stage at A&M; where the video was being shot. Rick had hired Adam Bernstein, who had created this cartoonish set where mountains shaped like buttocks bumped up against an electric blue sky. Mix was understandably concerned. A cartoon was not what he had in mind. But what Mix was really upset about were the dancers. Here he had written a song about big butts, but even I was like, "These dancers got some tiny asses." So Mix had beef with Adam about that, and when Bernstein tried to put a blonde wig on a Black model dressed up as a mermaid, Mix nearly walked off the set. This really was, for Mix, a celebration of Blackness, a concept that had gone very much over Bernstein's head. Still when they put honey in the yellow dress up on the turntable, all was forgiven. Mix and his boys stood, open mouthed, as we watched the unfolding of pop music history.
"Baby Got Back" would go on to become a huge record, and the video an iconic statement of the 1990s. But what most people don't know is that MTV only played it for a minute. They put it on the air and it got so many complaints that they got scared and yanked it. You wouldn't know that now, what with VH-1 showing it in retrospectives and all. This song was resisted.
But it ended up, really, as the declaration of a new age; Lisa Jones' article in song form. American culture really did change after that (and I must give props to Luke too, on the lowbrow side). In the 80s, a J-Lo or Beyonce would have been unthinkable. Now they are, in many ways, the norm. When I saw Beyonce's "Crazy In Love" video for the first time, admiring her casting, I wiped the drool from my chin and thought back to the kind of girls we had on the Chaplin Stage. Boy, we were amateurs. But there's a clear continuum between both videos, the Initial Protest Song to the Ultimate Victory Celebration. Uh-oh-uh-oh-uh-oh-oh-no-no.
——-
And so, you'll pardon me if every time I see some girl's big ass in a magazine or a video, I take it as a bit of a triumph. That's just my personal perspective. I remember when we had to fight the "white boy video directors" to get some big asses INTO the video. (And as far as degrading women is concerned, the guy who really needs to put down the camera is R. Kelly.)
And you'll pardon me if I don't cringe when I hear 50 Cent or The Game on Hot 97. I remember when the only hip-hop you heard on pop radio was Hammer, Vanilla Ice and, yes, Sir Mix-A-Lot. I give thanks it did not stay that way. I am grateful to Cummings and Cloherty and Flex for, at least, making it sound hot and somewhat authentic. Even if they never did play my records.
Still, my perspective doesn't change the fact that things have taken a turn for the worse.
What started as a celebration of Black and Latina beauty became, somehow, a race to see how much skin you could get into a video. (Even Mix went from "Baby Got Back" — a genuinely political song — to "Put 'Em On The Glass" —a juvenile cars-n-chicks record.)
What started as the jubilant, iconoclastic voices of the hip-hop generation, finally unleashed upon the airwaves and in the print media; over the years degenerated into a shadow call-and-response of ridicule and recrimination, resulting in the murders of at least two of hip-hop's greatest artists; and mix show Djs — once a ray of hope for the unestablished artist — quickly became as corrupted by the indie promotion game.
How did we get from there to here? How is it that Hot 97 could allow something as insipidly vile as the "Tsunami Song" or "Smackfest" to be broadcast without any real repercussions? And why has hip-hop media, year after year, made booty and beef its main course? How is it that many of the partnerships that fostered such great art — Iovine & Dre, after all, birthed "The Chronic"; Cummings and Flex gave hip-hop a home on the FM dial — now preside over a seemingly amoral environment where nothing really seems to matter: not quality, not intention, not consequence? Hip-hop used to be angry. Now it's just mean. Rap used to be passionate. Now it seems rapacious.
The question is why. Is this race-to-the-bottom in hip-hop yet another manifestation of an insidious cultural power-play by white elites? Or is it part of something bigger?
Much bigger. Stay tuned for part two…